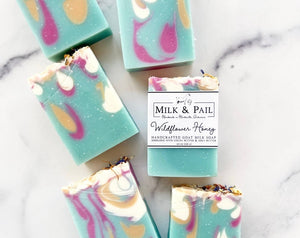 Wildflower Honey Goat Milk Soap
Soft and sweet with green notes of wildflowers, lavender and fern blended with warm honey and sandalwood.
Cold process soap handmade with a blend of rich cocoa and shea butters, nourishing oils and fresh goat milk to create a mild, long lasting bar of soap with a creamy lather. Scented with quality phthalate free fragrance oils.
Each bar of soap weighs approximately 4.5 ounces.  Made in the USA.
Ingredients: goat milk, lard, olive oil, sodium hydroxide, coconut oil, shea butter, cocoa butter, castor oil, fragrance, mica