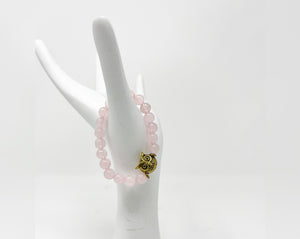 Rose Quartz and Owl Baby Bracelet
This rose quartz gemstone bracelet is an adorable gift for any baby girl!  
Made by local NM artist, Austin Herrera.  Austin was born and raised in Las Vegas, NM and has always been into fashion.  He loves making gemstone bracelets, not only for their amazing looks, but also for the healing properties and the meaning behind each stone. He has been making his gemstone bracelets for the past 2 years and is excited for you to enjoy his jewelry!