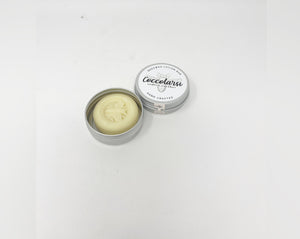 Coccolarsi Lotion Bar (Small Vanilla Coconut)
This wonderfully scented beeswax lotion bar is sure to keep your skin soft all year long!  Massage lotion bar onto hands or body and feel it melt into your skin, leaving it soft and silky. 
Made in NM
Ingredients: Pure beeswax, shea butter, sweet almond oil, vitamin E oil, essential oils and/or fragrance. 
Approximately 1.3 oz.